Fody Foods is proud to be a certified B Corporation and a part of the global community of leaders seeking to use business as a force for good.
As a B Corp, we at Fody are committed to continuously assessing and innovating within our company and supplier ecosystem to ensure that everything we do is rooted in integrity. Certified B Corps balance purpose and profit; we consider the impact of our decisions on our workers, customers, suppliers, community and environment in everything we do.
We use our business model to create meaningful impact through the following key impact areas:
Customer Welfare

We create ridiculously delicious and convenient gut-friendly foods for people with digestive issues because we want everyone to enjoy the pleasure of the foods they love, without the worry.

Environmental Stewardship

We intentionally reduce our negative impacts on land and life by offsetting our carbon footprint and utilizing sustainable packaging.

Community Investment

Our goal is that our focused charitable giving, advocacy, and volunteering will further enable us to live out our mission of making healthy food accessible to all people, even those with sensitivities.

We Are Passionate

About supporting causes through financial donation and product donation, specifically related to providing healthy and affordable food access for all people.

We Donate

We donate Fody products to food banks in an effort to provide healthy, gut-friendly food options to individuals with food allergies or sensitivities and facing food insecurity.

We Support

We proudly support the causes that closely align with the values of our employees by matching their personal donations to non-profit.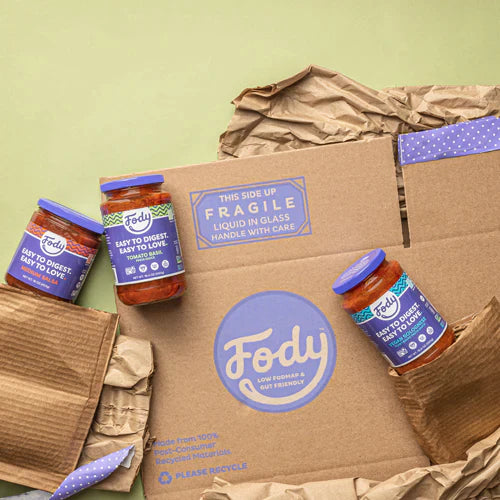 Our packaging materials are designed to have less overall environmental impact than common alternatives.
They are non-toxic, biodegradable, recyclable (25%) and are certified to meet independent standards for environmental impact. We use input materials that come from recycled materials, reused components, and/or certified sustainably sourced materials.
We conduct a formal assessment annually of our packaging design and materials to identify opportunities to minimize environmental impact.

By 2025, our goal is for 80% of our packaging to be completely recyclable or biodegradable

And 50% of material (by volume) to come from recycled materials, reused components, and/or certified sustainably sourced materials